K-SERIES – Küschall Manual Wheelchair: Iconic, Modular, and Dynamic
✅ Iconic modular design for personalized comfort and adaptability
✅ Versatile seat module independently adjustable from the frame
✅ Ergonomic backrest brace for compact folding and easy transportation
✅ Hydroformed frame for lightweight strength and structural rigidity
✅ Unloaded weight: Approx. 7.8 kg
✅ Transport weight: Approx. 5.1 kg
✅ Maximum user weight: Up to 130 kg
Inquire about this product
Description
Iconic, Modular, and Dynamic
The iconic modular K-Series is the perfect product for you. The unique, versatile seat module can be effortlessly modified independently from the frame and is fully adjustable to fit you perfectly. Whether you require a more stable position or are more advanced, the K-Series can be adapted to suit your lifestyle.
Benefits
ESSENCE OF KÜSCHALL: This chair is the essence of Küschall and what the brand stands for; it includes all our know-how in what all users want. A wheelchair that combines versatility, performance, and design. If there's a product that represents everything we believe in, K-Series is it.
SEAT MODULE:  If you are looking for something like this, you won't find it. The seated module remains independent from the frame and allows you to change your seating set-up anytime, anywhere.
ERGONOMIC BACKREST BRACE: Fold the main frame with a designed folding mechanism for compact and easy transportation or travel. Super compact with the SK (Swiss knife-folding) option enables the Champion to be folded even smaller.
QUICK AND EASY FOLDING:  The lockdown folding backrest is height and angle adjustable. Easy folding with the perfect open frame design ensures effortless car transfers. Stay independent and on the go!
HYDROFORMING:  Hydroforming is a forming process that allows the shaping of metals into lightweight, structurally stiff, and strong pieces. With a high-pressure process, the tube is fully enclosed in a die before pressurization, resulting in new possibilities for complex shapes which are stronger, lighter, and more rigid.
Specifications:
Seat width: 320 – 500 mm in increments of 20 mm
Seat depth: 350 – 525 mm in increments of 25 mm
Knee-to-heel length: 290 – 480 mm in increments of 10 mm
Backrest height:  270 – 480 mm in increments of 15 mm
Backrest angle: 74° / 78° / 82° / 86° / 90° / 94°
Seat height: Front: 450 – 520 mm rear: 390 – 490 mm in increments of 10 mm
Frame angle: 75° / 90° V-frame or tapered
Center of gravity: 80 mm / 95 mm / 110 mm/ 125 mm / 140 mm
Total length: 75°: approx. 830 – 1055 mm 90°: approx. 760 – 985 mm
Total width: SW + 170 mm
Total weight unloaded: approx. 7.8 kg
Transport weight: approx. 5.1 kg
Max. user weight: 130 kg
Customization Options:
3 Simple steps and more than 100 design possibilities to make your Küschall wheelchair even more personal:
1- Frame Color: Select the frame among 13 possibilities.
Decal Design: Give a personal touch to your Küschall by adding a decal decoration on the frame. 2 options to choose among: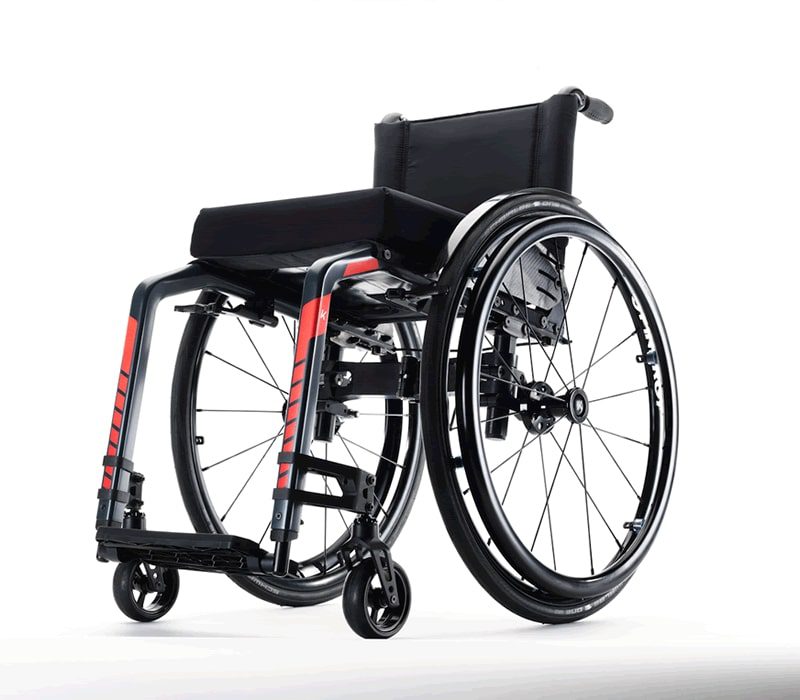 Decal Color: Select the decal color among 6 different possibilities: