Küschall Champion Wheelchair: Unique, Hybrid, and Super Compact
✅ Folding convenience with rigid frame performance
✅ SK (Swiss Knife) option for super compact storage during travel
✅ Lightweight aluminum active brake for precise control
✅ Choose from 13 frame colors and multiple decal designs
✅ Total weight unloaded: Approx. 9.2 kg
✅ Transport weight: Approx. 6.7 kg
✅ Max. user weight: 120 kg
Inquire about this product
Description
Unique, Hybrid, and Super Compact
Küschall Champion is a unique wheelchair that will give you the driving experience of a rigid frame with the convenience of a folding product. It's the ultimate combination of modern design with proven hybrid performance.
The SK (Swiss knife) option will make your Küschall Champion super compact to the size of a backpack, the perfect travel companion for your adventures.
Benefits
FOLDING LIKE NO OTHER: With the unique folding unit on the Champion, you can adapt and configure it to the user's requirements effortlessly. One unit to adjust the center of gravity in 9 different seat positions, rear seat height, and 5 different possibilities to mount the adapter for different setups.
SUPERIOR ENGINEERING: The folding mechanism is the reason why the Champion has a superior driving performance vs other foldable wheelchairs. Perfectly engineered, the result is a hybrid wheelchair: foldable but with the stiffness and rigidity of a fixed frame.
TRAVEL COMPANION: Fold the main frame with a uniquely designed folding mechanism for compact and easy transportation or travel. Super compact with the SK (Swiss knife-folding) option enables the Champion to be folded even smaller.
LIGHT ACTIVE BRAKE: The new light active brake, made entirely of aluminum and designed around the modern lines of the new frame, is almost a third lighter than other models. This new brake saves weight and gives you perfect control during activation. Precision even in the smallest details.
HYDROFORMING: Strength, lightness, and rigidity. The hydroformed front frame on the Kuschall Champion enhances your driving performance, increasing the stiffness and enabling effortless transfers with the ergonomic grip.
Specifications:
Seat width: 360 – 480 mm in increments of 20mm
Seat depth:

340 – 480 mm

in increments of 20mm

Knee-to-heel length:

320 – 500 mm

step-less adjustable

Backrest height:

300 – 465 mm

in increments of 15mm

Backrest angle:

76º/ 80.5º/ 85º/ 89.5º/ 94º

Seat height:

Front: 450 – 540 mm,

Rear: 390 – 490 mm

Frame angle:

75º / 90º

Straight or tapered

Center of gravity:

9 positions,

Max. safe slope:

0º / 1º/ 3º

Total length:

75º approx. 930mm.

90º approx. 830mm

Total width:

SW + 160 – 240 mm

Total width folded:

Approx. 280 – 340 mm

Total weight unloaded:

Approx. 9.2 kg

Transport weight:

Approx. 6.7 kg

Max. user weight:

120 kg
Customization Options:
3 Simple steps and more than 100 design possibilities to make your Küschall wheelchair even more personal:
1- Frame Color: Select the frame among 13 possibilities.
Decal Design: Give a personal touch to your Küschall by adding a decal decoration on the frame. 2 options to choose among: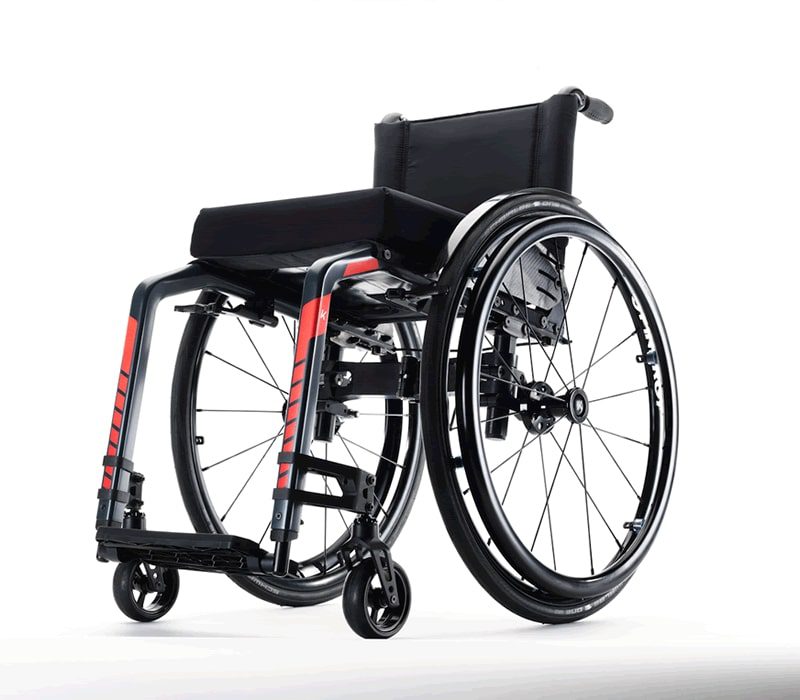 Decal Color: Select the decal color among 6 different possibilities: