KSL – Küschall Super Light Wheelchair: Elegant Design, Custom Fit
✅ Clean and minimalist design exudes elegance and quality
✅ Fully customizable to fit individual preferences and needs
✅ Option for a foldable backrest, combining strength with portability
✅ Modern hydroformed frame design merging technology and aesthetics
✅ Incredibly light at approximately 6.8 kg unloaded weight
✅ Max. User Weight Up to 100 kg
Inquire about this product
Description
Elegant, Made to Measure, and Super Light Wheelchair
Elegance is at the core of the KSL. The full Küschall experience has unrivaled quality and a clean, minimalist design. Designed for the more experienced user, the made-to-measure KSL is fully customizable, giving you the freedom to express your own personality.
This Super Light Küschall is the epitome of pure beauty, with the fully welded hydroformed frame, the rigidity provides a graceful, effortless ride wherever you go.
Benefits
MEASURED AND PRODUCED AROUND YOU AND YOUR NEEDS: Everything that is made-to-measure requires high standards of quality and precision. KSL brings all that, plus a powerful geometry that flows seamlessly into the chair's silhouette.
INTEGRATED DESIGN:  From the front frame to the back brace and the fork support, the new KSL speaks the same design language. Your new KSL has been powerfully and cleverly designed, uniting traditional and modern.
FIX OR FOLDABLE BACKREST:  While being designed to enhance stiffness and strength, the KSL can also be ordered with the foldable backrest. Never settle for compromise, and you can take it with you anywhere. The KSL is perfect for transport and storage.
RE-DESIGNED FOOTREST:  Small details can make all the difference. We have re-designed the footrest, a fundamental element for your seating posture, following the powerful geometry and dynamic appeal of the overall look.
HYDROFORMING: Applying hydroforming technology to KSL was simply the ideal choice. Never before has technology merged with design so perfectly. Your KSL has been improved, with a modern look, reflecting new trends in the market landscape. With KSL, design meets the future.
Specifications
Seat width: 340 – 440 mm in increments of 20 mm
Seat depth: 385 – 485 mm in increments of 25 mm
Knee-to-heel length: 350 – 500 mm in increments of 10 mm
Backrest height: 270 – 420 mm in increments of 15 mm
Backrest angle: 74° / 78° / 82° / 86° / 90°
Seat height: Front: 450 – 530 mm rear: 400 – 480 mm in increments of 10 mm
Frame angle: 75° / 90° V-frame or tapered
Center of gravity: 80 mm / 95 mm / 110 mm/ 125 mm / 140 mm
Total length: 75°: approx. 800 mm 90°: approx. 730 mm
Total width: SW + 170 mm
Max Safe Slope:  0º / 3º / 6º
Total weight unloaded: approx. 6.8 kg
Transport weight: approx. 4.3 kg
Max. user weight:100 kg
Customization Options:
3 Simple steps and more than 100 design possibilities to make your Küschall wheelchair even more personal:
1- Frame Color: Select the frame among 13 possibilities.
Decal Design: Give a personal touch to your Küschall by adding a decal decoration on the frame. 2 options to choose among: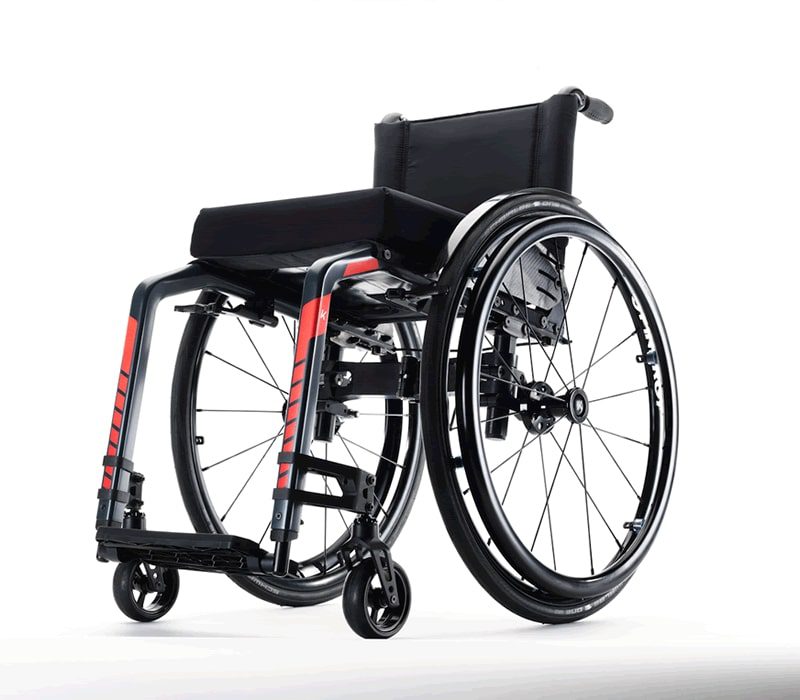 Decal Color: Select the decal color among 6 different possibilities: